NOVOBRUSH


Flexible application brushes (disposable)
Applications
Flexible Novobrush application brushes are practical tools for the precise application and distribution of liquid to slightly viscous dental medicine fluids: Composites, bonding agents , etchants, adhesives, lacquers and liners, desensitizers, tooth witheners, bleaching products, fluoride products or other medicines. Novobrush is the only manufacturer in the world that produces the flexible application brush in the "fine" version.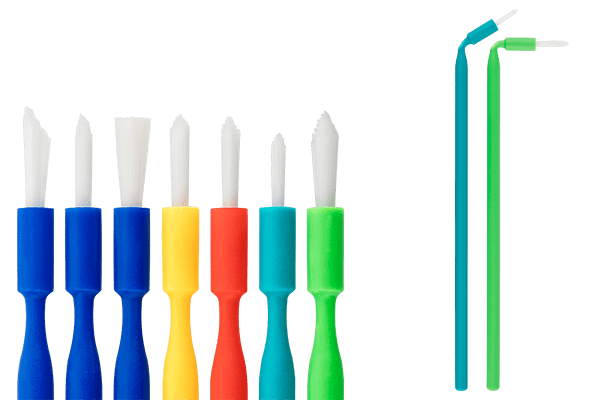 APPLICATION BRUSHES


All advantages. At a glance.
High-quality workmanship
In-house development and production
Flexible tip
Resistant against chemical and caustic liquids
Narrow, fine filament bundle (finishing according to customer requirement)
Visual quality inspection
UDI-compliant according to MDR (Unique Device Identification)
Private label for the international market
Versions, modifications and combinations
Standard length: 103 mm. Special length: 132 mm
Sizes: large, medium, fine
Only producer in the world in the "fine" size
Standard trim: pointed bristles (premium version)
Custom-made products with individual trims possible
Individual packaging units (depending on minimum order and customer requirement):

Practical practice kit
Refills
Other names for this product:
Brush applicators • Dental brushes • Disposable flexible brushes • Applicator brushes • Microbrushes • Disposable dental brushes
Service and solutions for all industries: We've got them all covered!
As an OEM (Original Equipment Manufacturer), we adapt our products and packaging to customer requirements. We produce, assemble and pack with the utmost care.