NOVOBRUSH


Application handles
(for brush inserts and MicroTips)
Applications
NOVOBRUSH application handles are a practical accessory for holding brush inserts and MicroTips. NOVOBRUSH application handles combine ergonomic design with a safe and simple push-fit system. The product can be cleaned using dental disinfectants and prepared in steam sterilisers and therefore can be used multiple times. The application handle is traditionally manufactured in the in-house plastic injection moulding process.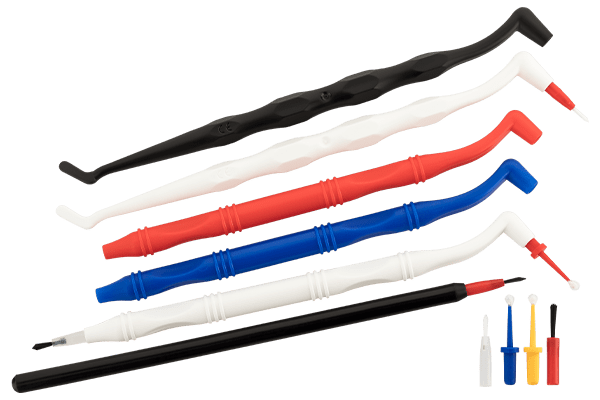 The handle is available in three versions:
The brush handle with spatula was developed specially for NOVOBRUSH brush inserts. The application handle has an angled mounting and a composite spatula. If required, it can also be used with NOVOBRUSH MicroTips.
The "double-ended handle", better known as the Novobrush MicroTip handle, is the appropriate product for the NOVOBRUSH MicroTips. The handle can be used flexibly as it has an angled and straight mounting. If required, it can also be used with NOVOBRUSH brush inserts.
The straight brush handle has a pen shape and a straight plug-in option for NOVOBRUSH application inserts. It is mainly used in the lab.
APPLICATION HANDLES


All advantages. At a glance.
Precise work thanks to ergonomic design
Handle and inserts are perfectly matched
Fast and safe application
High resistance against dental media
Cleaning with dental disinfectants
Autoclavable up to 121 degrees Celsius / 249.8 degrees Fahrenheit
Visual quality inspection
Environment-friendly handle system (85 percent less plastic consumption compared to systems without handles)
UDI-compliant according to MDR (Unique Device Identification)
Private label for the international market
Versions, modifications and combinations
NOVOBRUSH brush handles with spatula: white and black
NOVOBRUSH MicroTip handle: white, red and blue
NOVOBRUSH straight handle: black
Packaging units (depending on minimum order and customer requirement):

Smaller packaging units (e.g. 2 or 5 pieces)
Bulk
Other names for this product:
Dental handles • Application handles • Brush tip handles • Brush tip handles • Brush handles
Novobrush dental handle systems: Sustainable and resource-friendly
Careful use of resources is common practice for Novobrush. That's why our dental handle systems can be cleaned, sterilised and used multiple times. Only the application products have to be exchanged. This means that we reduce plastic consumption by more than 85 percent – compared to application products without handles and disposable products. Less raw materials in production. Less waste in the surgery and in the lab. Small parts. Big impact.