NOVOBRUSH


Brushes and applicators for screw caps (for bottles with brushes)
Applications
NOVOBRUSH assembly brushes (screw cap brushes) are suitable for diverse applications for applying different liquids. Whether in the pharmaceutical industry (tinctures), in the cosmetics industry (nail polish) or in the technical field (wart tincture, corrective lacquers, colour testers, barbecue cleaners, leather colour, hoof oil, primers, PVC adhesives, and lots more). Use the strength of NOVOBRUSH for your product line: Based on our decades of experience, we are an experienced partner especially for project-related new developments: brush size, brush diameter, finishing or different filament (hair / bristles). Our in-house vertical range of production allows individual adaptation to your bottle design.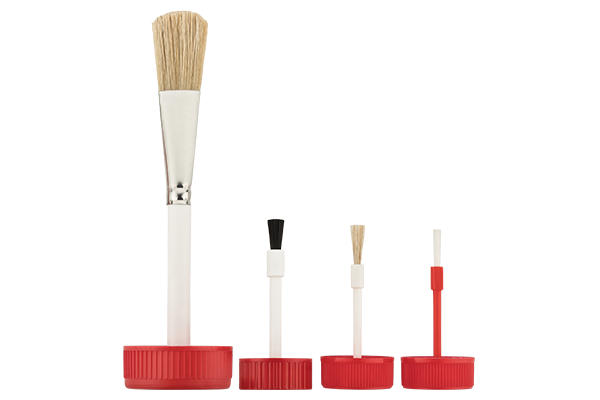 BOTTLE BRUSHES


All advantages. At a glance.
High-quality workmanship
Proven raw materials depending on use
Variety of customisation options
Suitable for a variety of applications
Private label for the international market
Versions, modifications and combinations
Application brushes for bottles from 5 ml to 1,000 ml
Different brush sizes and diameters
Individual compilation of type and volume of filament (hair and bristles)
Special finishing of filament
Brush stems for special projects with sealing function
Other names for this product:
Brush caps • Bottle brushes • Pharmaceutical applicators • Assembly brushes • Brush bottles • Applicator brushes
Service and solutions for all industries: We've got them all covered!
As an OEM (Original Equipment Manufacturer), we adapt our products and packaging to customer requirements. We produce, assemble and pack with the utmost care.